Mother's day via the internet with mom also became a day for me to continue to recognize my feminist power.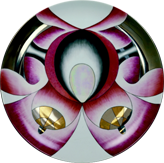 I feel an overwhelming sense pride and strength for my womanhood. This feeling is radiating out of my core as I write this. I was trying to quickly jot down each spark of inspiration, as I moved from woman to woman, learning about each honorable place setting. Judy Chicago is best known for inviting women to The Dinner Party which is permanently installed at the Brooklyn Museum. While browsing a virtual tour which you can do for free. The Dinner Party consists of a large-scale triangular dinner table with intricate place settings laid out for 39 historical feminist icons and 999 inscribed names of spectacular women in gold, on the Heritage floor. Only recently did I discover Judy Chicago in my Introduction to women's studies class, which began with the question "What is a Feminist?" Chicago created the Dinner party in the 1970s and now in 2020 only getting the recognition she deserves as an artist, feminist, and educator.
In January 2020 Judy Chicago created the Dior fashion show venue, a goddess's womb coupled with immersive work titled "The Female Divine".
I'm 40 years past 'The Dinner Party, but the issue of changing attitudes toward women and imagining 'the female divine' is something that hasn't happened yet, has it?"
This Judy quote sparked my inner desire to continue to push forward and use my Fem strength to make my first mark in uniting women.
I will do this though mother earth, emphasizing the strength and power of women uniting and healing through the natural world to grow into her own feminist voice, her power within.
As I poured over the monumental strengths, attitudes, and actions of the invited dinner party guests, I felt as if I was a sponge absorbing feminist inspiration empowerment, and resistance. The pride and strength was coupled with a grief for women as I thought about how these women must of felt at the time. What drove them??? I know, their inner feminine power.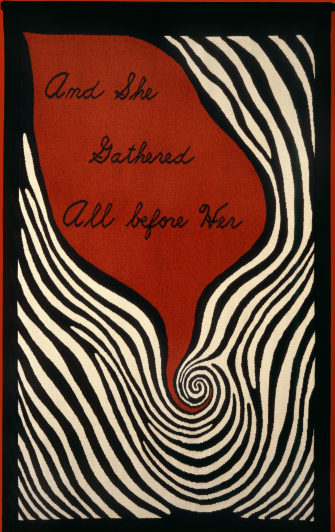 What would they think to see their name embroidered into a beautifully woven table runner and place setting? A 14" plate crafted specifically for her, resembling her essence, her intensity and her successes? Sacajawea for example, is now one of the most well-known and respected Native American women in history. She stands not only as a symbol of the strength of Native American women, but as an emblem of the tenacity and power of all women. She is honored here in a permanent place setting among the women of the Amazon, Virginia Wolff, Hypatia of Alexandria, Sojourner Truth, and Ishtar the most important female deity of ancient Mesopotamia.
I hope you check this out if you are looking for something to do with mom or need some feminist inspiration.