Why does Horticulture For Healing (H4H) focus on residential substance use treatment, alternative juvenile programs and transitional housing residencies?
Horticulture For Healing started with Joanna's own experience, to contribute to ensuring that every individual has the opportunity to reach their full potential by recognizing and claiming their value, beauty, power and space. Bringing plants, gardening and self kindness practices into the lives of individuals facing oppression by societal norms, can aid mental and physical well being while promoting a safe space to grow and heal.
Research has shown that caring for a plant helps build confidence and relaxes while positively stimulating the recovering mind.
Another H4H goal: individuals who participate in this organization are able to use Horticulture For Healing as a creditable personal resource/reference for their resumes, employment and/or educational applications.
Horticulture For Healing (H4H) supports the United Nation's Sustainable Development Goal 5: Achieve gender equality and empower all women and girls. Horticulture For Healing will support many individuals who are overcoming enormous obstacles including poverty, substance use, emotional, physical, and sexual abuse, lack of income, and homelessness. Our organization meets people in this space, providing creative resources to people who are in need of safe and supportive ways to heal emotionally. H4H designs Plant Care Is Self Care Kits and Workshops for LGBTQ+,non binary, cis women and girls, and intersex people so we can connect to nature as a form of support and reassurance. Our mission will support participants as they begin to visualize and experience a sense of self love, acceptance and freedom regardless of their past.
Does Horticulture For Healing exclude heterosexual men? Do I have to be a feminist to be apart of the Horticulture For Healing community?
Horticulture For Healing's program is designed for LGBTQ+, cis women and girls, non binary and intersex people. This does not mean that we are against heterosexual men. In fact, we need to collaborate and partner with all to dismantle gender inequality and patriarchy. This means that we ask and need all genders to unite with us and contribute to breaking down the patriarchal, colonizing and racist ideals this country is built on.
You do not need to be a feminist to be apart of the Horticulture For Healing Community. If you are unsure what feminism means this definition of feminism by Sam Killermann may help you: Feminism means to critically about society while realizing that we are all just human beings, struggling to make it in this world that holds us to impossible standards and narrow boxes while wanting to authentically express ourselves and live our truth.
As feminists we are striving to create a society in which individuals' genders don't restrict them from an equitable shot at success and happiness.
How will Horticulture For Healing be a sustainable project?
I am actively designing a comprehensive online tool: The Horticulture For Healing Template. This template helps users adopt and implement the Horticulture For Healing garden plan, and our At A Distance adaptation, and curriculum at women's shelters, domestic violence centers, girl's centers, sober homes, halfway houses, and residential addiction treatment residences throughout the country and abroad. This ensures increasing capacity of this project and organization.
For existing projects, The Horticulture For Healing (HFH) Template will be given as a downloadable copy for every treatment center and housing unit that hosts Horticulture For Healing. This will ensure the longevity of the gardens, At A Distance curriculum, and the organization. The HFH template includes and offers zoom/video mentorship for locations that would possibly like to implement Horticulture For Healing in locations in which we are unable to reach geographically.
What Other Benefits Does Horticulture For Healing provide?
This project has an immense positive impact not only on humans but on the relationship between humans, animals, and plants. We unite oppressed groups of people to nature, creating a much needed human to nature connection for individuals that would otherwise not have the ability or opportunity to connect to nature in this way.
How Can I help?
Currently Horticulture for Healing is in need of financial support to build our Plant Care Is Self Care kits to distribute to centers throughout Florida. This is apart of our project adaptation due to COVID19. Any financial donations will be used to buy supplies for the kits. We greatly appreciate this and sharing our website and social media pages as well.
Listed below is an overview of what we will include in the kits that coincide with our Plant Care Is Self Care Workshops. Please see our donation/support page. If you would like to contribute financially.
What we include in our Plant Care Is Self Care kits :
Potted plant and clay water tray
Zines on plant care, self care and feminist thinking stratigies.
Spray bottle
Journal
Writing utensils
Moon calendar
A stress relief product
Affirmation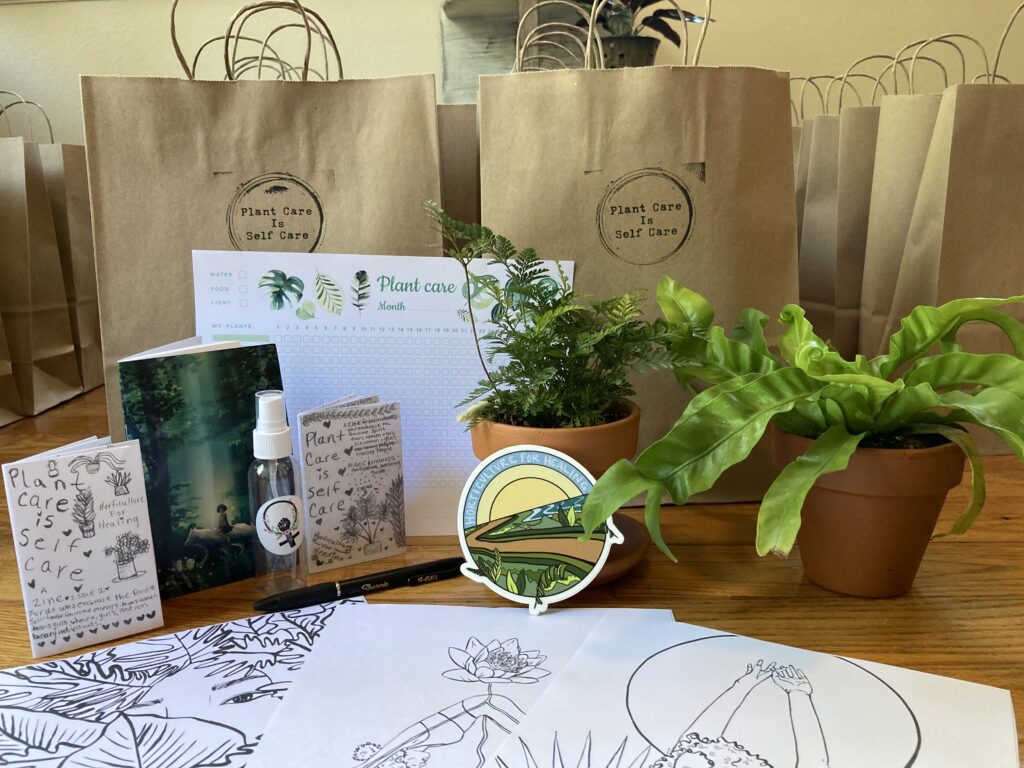 Do I Have to be In Recovery to be apart of Horticulture For Healing?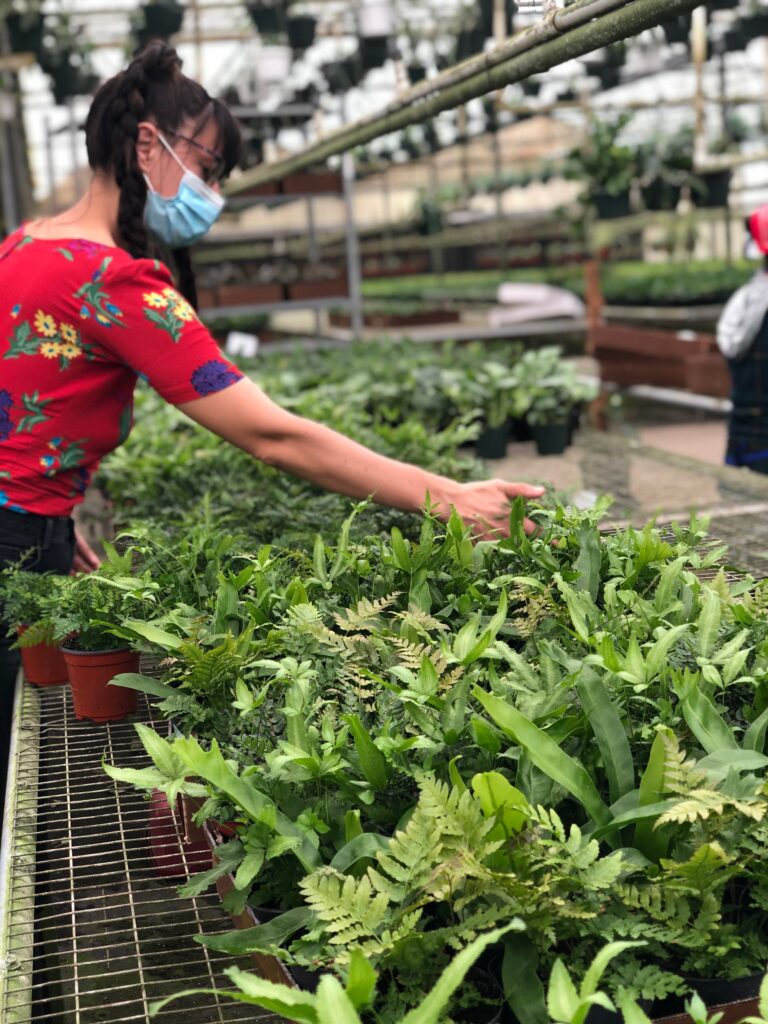 No! If you are looking to help and support you do not need to be in recovery. If you have a desire to contribute to gender equality, like to get your hands in the dirt, love plants and the outdoors, and want to provide creative resources for people to have an equitable shot at success and happiness you can be apart of Horticulture For Healing. Donating supplies, money, volunteering and sharing this organization will help us achieve our goals.
What do the Plant Care Is Self Care Workshops include?
Alongside the garden installation and now the distribution of our Plant Care Is Self Care kits, we provide workshops on plant care, self care and feminist thinking strategies. We encourage discussion on ways to begin the practice of self care, how to connect to nature when you have limited resources, what it means to connect to nature and become environmentally aware and how to think critically about the world around us so we can speak our truth, learn, and find the time and space needed to heal when in a very uncomfortable time of rapid change and growth.
We demonstrate plant care skills for indoors and out, this includes watering, weeding, transplanting, seed propagation and assessing general plant health, monitoring for insects, disease, and mold. Participants will become knowledgeable about their connection to the Earth and the environment and how to stand against the stigmas embedded within social norms.
Participants can use this experience towards their vocational goals when leaving their treatment center or transitional house.
The result: people who now know that radical self care is found within and can be practiced through the act of caring for a plant and connecting to nature.
What is an Urban garden bed?
Urban gardens are wooden, brick, adobe, or a cement box or rectangle raised above ground level to ensure a secure area to grow a wide variety of plants and vegetables in healthy soil. Our raised beds are designed to be easy to use. The urban garden bed design includes a ledge to sit on while weeding and planting. The beds are constructed from cedar and include installation of landscape fabric and chicken wire which is made of thin galvanized flexible steel.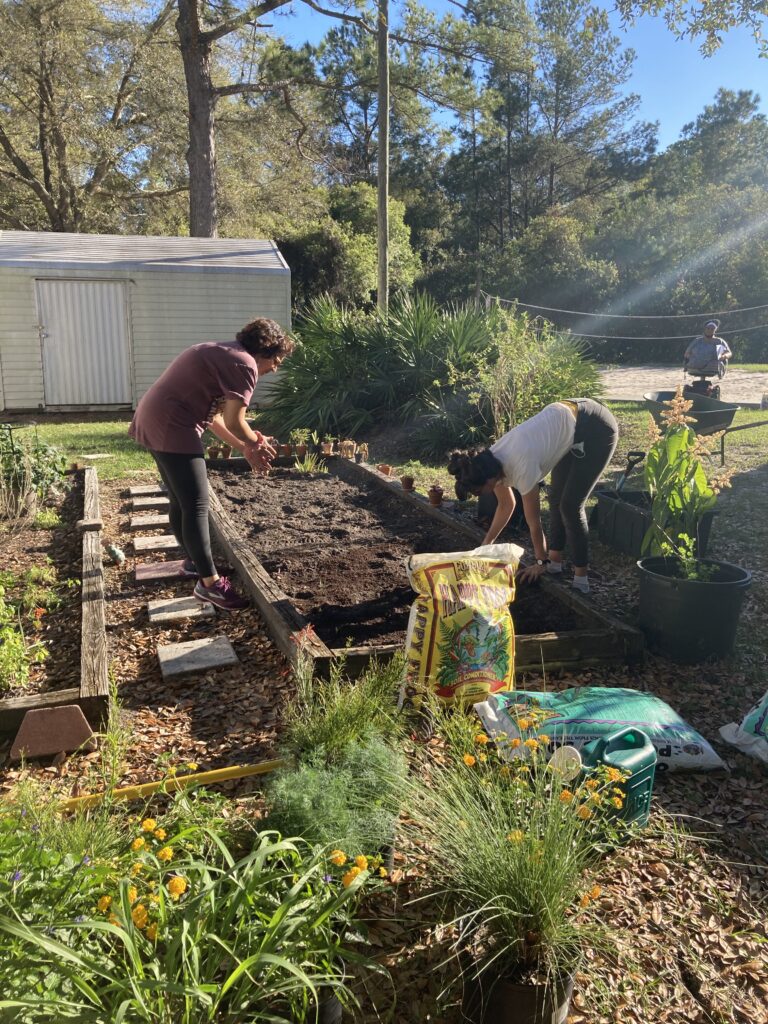 How are raised garden beds sustainable?
Raised beds are sufficient for increased accessibility, improved drainage when soil is not ideal (i.e Florida's sandy soil), limits soil compacting, helps insect and weed control. The beds are made with non chemically treated natural building material. Raised beds are very good at growing large amounts of plants with little water since the recommended means of growing in raised beds is by area, as opposed to rows.
What kind of plants will grow?
Horticulture for Healing's raised urban beds will grow a variety of herbs that thrive in Florida's climate including but not limited to rosemary and lemongrass and dill. (see plant list page for more info). The beds will also be home for pollinator plants including native Florida milkweed (swamp milkweed) the Florida Firecracker, and Florida Portweed. These essential plants attract a wide variety of insects including native bees, butterflies, and act as host plants for caterpillars.