I mention in previous posts: Horticulture For Healing was granted the empowering opportunity to partner with Pace Girls school – Immokalee Florida. H4H gets to hold our Plant Care Is Self Care Workshops monthly in their science class. Our first workshop was an introduction to claiming self care as our human right and our three kinds of plants: Rabbit's Foot fern, Bird's Nest fern and Purple Velvet Plant. Our next virtual workshop is on February 18th from 8am-2pm where Pace Immokalee will dig deeper into plant care as self care and how this can be used to become powerful strong self sufficient girls and young women.
Originally known as Gopher Ridge by the Seminole and Miccosukee Native Peoples. Immokalee means "My Home" in Mikasuki language. The Immokalee area of Florida is heavily agricultural. It is one of the major centers of tomato growing in the United States.
Reading up on the work of The Coalition Of Immokalee Workers (CIW) and speaking with a long time resident of Immokalee reopened my eyes and mind to the living conditions and lack of social resources for people who live within this specific community. Only 45 minutes from Naples where the number of millionaires is just over 9% of the population, the residents of Immokalee have the third highest income inequality in the country. However the people in Immokalee stand in solidarity and resilience, organizing to supply their community with social and health resources while no one else will.
I know there are many, many more agricultural communities throughout Florida, this country and the world, who are ignored by the government and used as "essential expendable workers". In Florida agricultural communities are located in areas that seem to be out of sight and mind of the state, government and surrounding cities. Driving out to Immokalee to deliver our kits took more than 3 1/2 hours. I became aware that if you don't posses transportation and live in Immokalee, you aren't leaving.
I wanted to share this from the CIW who took to the opinion pages of The New York Times to alert authorities to the pending disaster of COVID19:
In communities like Immokalee, where farmworkers were declared 'essential workers' but lived and worked in dangerously crowded conditions that made social distancing and self-isolation impossible. The message from the govt, at the time, was clear: "While your labor is essential, you are expendable."
But Florida Gov. Ron DeSantis has turned his back on the state's essential workers and is strictly limiting the distribution of vaccines to Florida's 4.5 million seniors, and excluding essential workers. In the governor's words, "We are not going to put young, healthy workers ahead of our elderly vulnerable population."
Along with the US exploitation of farmworkers and produce these are the hard facts I had to take into consideration when deciding to give the girls and young women (many who come from families of farm workers) at Pace Immokalee their Plant Care Is Self Care Kits that include a plant. After talking with the science teacher who was a farmworker herself for a large portion of her life, helped me see that these plants are something that is not for sale and isn't a commodity to be exploited. Which is what mega corporate agriculture has done to vegetables, fruit, plants and the seed itself.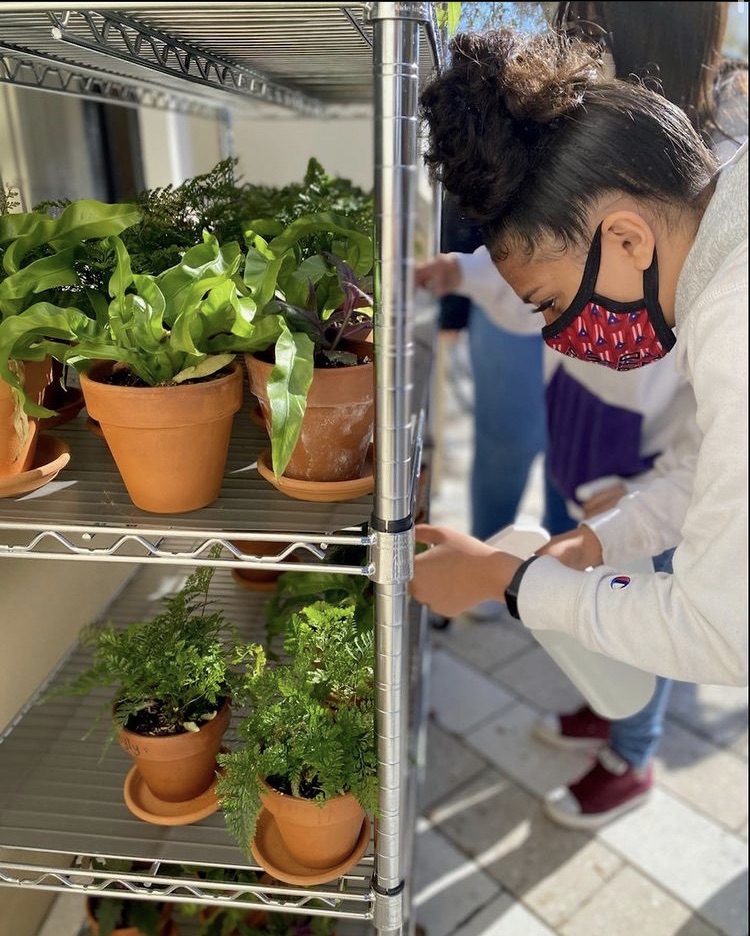 Horticulture For Healing's plants given with the intention to support girls and young women in beginning to recognize and claim their beauty, value, space and power through plant care, self care and feminist thinking strategies.
Coalition Of Immokalee Workers